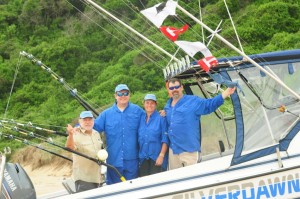 My wife, Karen, and I together with Richard Myhill fished on the boat Silverdawn skippered by Rod Wyndham in last week's Mapelane Billfish 2012 held at Mapelane Skiboat club and the good news is that we won with 4 marlin being caught and successfully released on our boat, including one each from Karen and I. See attached picture where Karen is now flying her bikini top to show that a lady caught the fish, something she has started doing last year, which causes much mirth on the beach when people realize why its there!
In total there were 18 billfish caught with 17 released (one had a visit from the "taxman") from 43 strikes and there were 15 boats fishing for 4 days. It seemed that the billfish were generally bigger than last year and we estimated our fish to be over 120kgs with 2 being over 200kg's and the only fish weighed was the one taken by sharks and that weighed in at 189kg's.
It was a real pleasure to fish in such a well organized competition that feels much more like a family gathering and they really welcome visitors with open arms, maybe worth entering a Nomads boat next year?
Sean Smith